<![CDATA[

If you have someone with developmental disabilities in your family, you probably share a secret and a bond with the rest of us who do. Lots of friends look at you with great sympathy, as if this is a cross they never could bear. But here's the secret: much as we have strife and burdens we never counted on, a lot of fun happens because of our family member's special needs.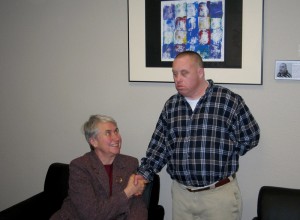 Take the case of my lifelong friend Lyn, whose son Walter has Down Syndrome. Walt could read and write and do all sorts of tasks no one thought he'd be able to do and, beginning in junior high school, went to a regular school taking some special education classes and some general classes with students who were not handicapped.
One day Walt brought a note home: "If Walter can learn how to open his padlock, he can take a regular gym class. " Walt then handed Lyn the padlock and looked at her. She read the instructions, and then said, "Now look, Walt. This isn't hard. You just turn it this way first, see, and then when you hit this number, you turn it ….wait a sec, I went too far…..um, so let's start over….." And Walt grabbed the padlock from her and promptly did the combination and opened his padlock. Twice. "That's it, Lady!" he said.
These are the scenes I mean. Where else do you get this kind of surprise and joy and laughs? We have a collection of them.
When he was about seven, Walt needed a new parka. His speech is a little labored, so Lyn had to ask a few times before she got what he meant. "Okay!" she said. "I'll look tomorrow!"
When she came home from shopping, she took the parka out of the Kmart shopping bag and said, "Ta Da!"
Walter frowned his deepest frown.
"What's the matter?" asked Lyn.
"Don't want hood. DON'T WANT HOOD!"
"Walt, listen, they only come with hoods. They don't have any without hoods. Now just settle down and let me unload the groceries."
Walter's expression indicated that he thought his mother was mentally impaired. "Baby coat," he said, scowling horribly.
When Lyn came back in from her car, her kitchen was snowing feathers. Walt had found some scissors and was methodically cutting off the offensive hood to his new parka.
She called me. I couldn't tell whether she was laughing or crying , "I wonder if this is why they call it Down Syndrome……"
We were having dinner at Lyn's house, drinking wine and laughing and chatting, and Walter came into the living room and handed me a note. The note said, "Pls. BE QUITE." He knew what he wanted, and he told the world.
Another evening Walter's family came to my house for dinner and I was showing Lyn my fancy new dressing gown with sequins and feathers. Walter made it clear that he wanted to try it on. Much taken with his reflection wearing the elegant garment, he said, "Opera coat" posing as if he were about to be photographed. This was an early sign of his adolescent preoccupation with adult finery and his appearance in general.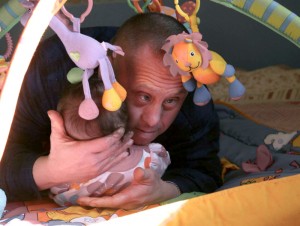 Every Sunday as the family got ready for church, Walt's brothers and sisters knew they must be in their Sunday best, clean hands, hair brushed. Walt did all these things too, but something was missing. His father always wore an elegant necktie to church. Walter appeared with his bathrobe belt, which he had carefully tied just like a tie around his neck.

When Walt's parents told him this wasn't going to do, he simply insisted and resisted. Insisting and resisting is something every special needs family knows all too well, and it's a hard one to work around. In short order, Walter had several neckties of his own. However, he seemed to think that the bathrobe tie was more reverent attire.

Lyn was clear that Walt needed to look every bit as nice and better than other kids at church. Just because. It took about four Sundays of Walt getting out his bathrobe belt and heated discussions with both parents to get Walt into one of his new silk ties.

When Walt was an older teenager, he got to wear one of them to a performance in Las Vegas by Bill Cosby. Somehow the family got stage-side seats and Cosby's superb performance, as usual, riveted the crowd and brought a standing ovation.

Just before he left the stage, Cosby took a flower from his tuxedo lapel and knelt down by Walt, who was sitting right next to the stage. He handed Walt the red rose and said, "Give this to your mother."

As I say, there are those who get it, and those who maybe don't.

]]>