February 14th, 2012
I have so much to tell you, and I am feeling very neglectful of my blogging on this website. What happened was too much fun with the Huffington Post (you can look me up by clicking at the top of this site) since July.
However, some subjects, such as ours (siblings and how to survive being one) deserves a quiet chat amongst ourselves.
Here is a huge breakthrough for me, and in case you go around feeling guilty because you aren't there at all times for your sib with the special needs, I have to tell you!
So my sister Irene (next blog about her new life not weighing 250 pounds)participated in Special Olympics Bowling last month. Naturally, I assumed I was expected to go cheer for her. Her staff was going to be there anyway, but I just knew she was counting on me. Should I bring her a bouquet of flowers? I decided against that, but maybe balloons? Well, that might be a little distracting.
So I went just by myself, no gifts in my arms, which is usually what I like to do (Guilt-Because-We're-Normal R US).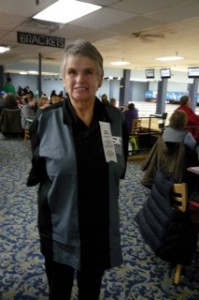 I found Irene's team and lane, and watched her send her slow motion ball down the lane and make a strike. I cheered and clapped, and then she saw me. She ran to me and hugged me and immediately took me over to the souvenir table, where you could buy all this stuff with the Special Olympics logo on it. She started showing me all she wanted me to buy for her. But then someone from her team yelled at her and it was her turn again, and she was way back near the snack bar with me.
What happened next was that Irene never made a strike again as long as I was there. In fact, she kept throwing gutter balls. Her team was groaning.
What happened was that her attention became focused on me and the chance to get more STUFF.
What happened was that although her team was in position to get bronze medals, her lack of attention lost it for them and instead they got white ribbons, fourth place, for participating.
Her team was staring daggers at her, and that night, her staff leader, Gretchen called me and gave me the bad/good news.
"You may have noticed that you are not always a good thing in Irene's life, fabulous as you have been."
"Well, yes, I think I inadvertently made a mess of her whole experience."
"That is correct," said Gretchen. "What if next time I call you just before they get their awards and you can come clap for her then? So that she can concentrate on her game and do her team proud?"
Inside, I was kicking myself, and also cheering. My sister not only didn't need me, she didn't WANT me!!
Perhaps ours is the only field in life in which you can feel both foolish and free at the same time. My spirit is taking wing. Irene is growing up and having her own life.
I don't always need to be right there.
I am 72 years old and it took me this long to figure out.
So that is Mother's Little Lesson and story for you for today. Let me hear from you.
And Be My Valentine, will ya???